Greetings once again and welcome to another long catch-up blog. There is so much to cover this time around, and many changes to the overall direction of our project that will be outlined. Going forward, you will see big changes in the way we handle development, and we look forward to hearing your feedback about them.
Alpha Release Progress
I'm sure Alpha release progress is the topic that everyone is most interested in, so I'll cover it first. Around the last week of November, our team shifted from a feature implementation and prototyping development stage to an aggressive content development and content testing phase. With a new focus on content creation came the demand for "actual" art as opposed to "conceptual" art, pushing us to develop on a far more consistent basis. It has been a long road of rebuilding and organizing the map around new assets, however we're making great progress and looking to put the finishing touches on the map this week.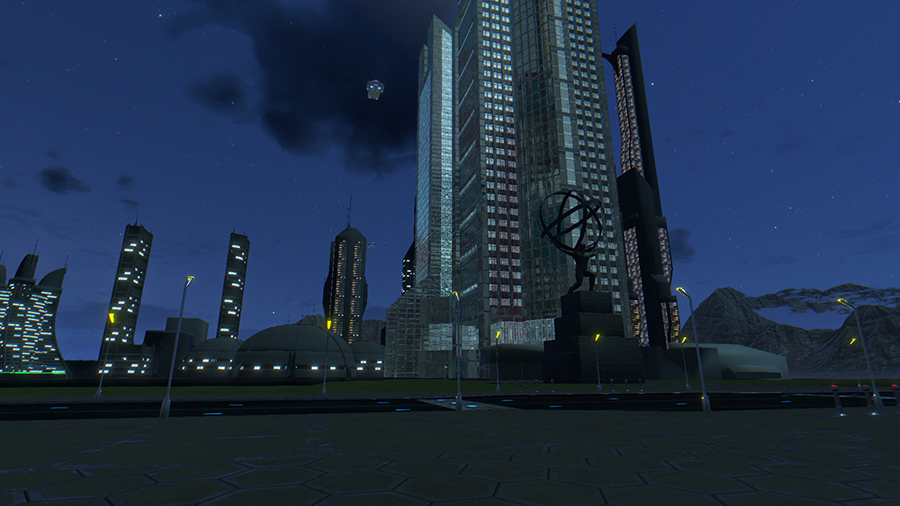 With that said, I'm sure you're wondering, what's next. Our team has been vigorously integrating new models into the map, while our coding team has been running parallel with the content, quality assurance, and marketing/business teams. The content team has been delivering tons of great content... SO MUCH GREAT CONTENT!!! Currently, they're dependent on us coders to implement it into the game as our toolsets are very primitive, coder-centric, or just flat out raw, yet simplified code. We've been slowly developing tools that will allow content designers/writers to implement and test their own missions, NPCs, and mobs. However, we're quite far from that being a viable tool to use. In the meantime, we'll continue on as we have been. For example, our Content Director has been doing mob scripting for the new starting area mob group, The Starborn, which includes 287 mob classes of varying levels.
The programming team has been hammering away at debugging, implementing content, and polishing our character generator. The latest iteration of the character generator represents how it will function in the final game, though art and styling may change over time. We have a few major elements that we're working to implement, and they are Origins, Genetics, and Profile in the Persona panel of the character generator.
Our marketing team is also gearing up for Alpha release, and building their launch campaign for the project. Alongside them, our business team is preparing for the Steam launch and resuming talks with interested investment parties as they start planning to strengthen our infrastructure's integrity. Our plan is to have the Alpha run for at least 1-2 months. The first phase of testing will be reserved for those that have donor status with the project. As people donate money they will, of course, be given immediate access to the game. They will also receive all of their accumulated donor rewards that are available in the game at that time. Over time we will also add additional testers drawn from people registered on our forums and later, open testing to the public at large. The Steam launch is pivotal for us and is anchored loosely on how financial negotiations mature with interested parties, and how well the Alpha is received by our players. We're in no rush to Steam, and it has always been our goal to have a well-established and highly refined product before heading to that market.
Character Generator V3 Progress
As always, we have continued to improve the character generation experience. We've expanded the traits concept into an element we're now calling Genetics. Genetics is a two-sided aspect of your character, and for each Benefit you apply you're forced to apply a Detriment. These pools are designed to give your character interesting passive abilities and properties, while still presenting flaws into the system. If your character has a Benefit such as Far Sight, they are able to see a greater distance than normal people; an ability that allows some ranged sniping attacks to work as an actual long range sniper attack. You'll also have to pick a Detriment that is of an equal tier in order to move forward with character generation. Many of these Genetic properties affect gameplay, so choosing what is right for you will be very important part of character generation.
We are also expanding Origin implementation into the gameplay spectrum and beyond basic roleplaying elements. Players will see their chosen Origin affect dialogue choices, NPC responses, and in some situations, faction or organizational alignments. If, for example, your Origin is scientific and its sub-class is robot, you may interact with "cyberphobic" factions that speak to you with harsh tones and may not even associate with you at all. The same as some cyber or robotic groups refusing to associate with true, organic humans.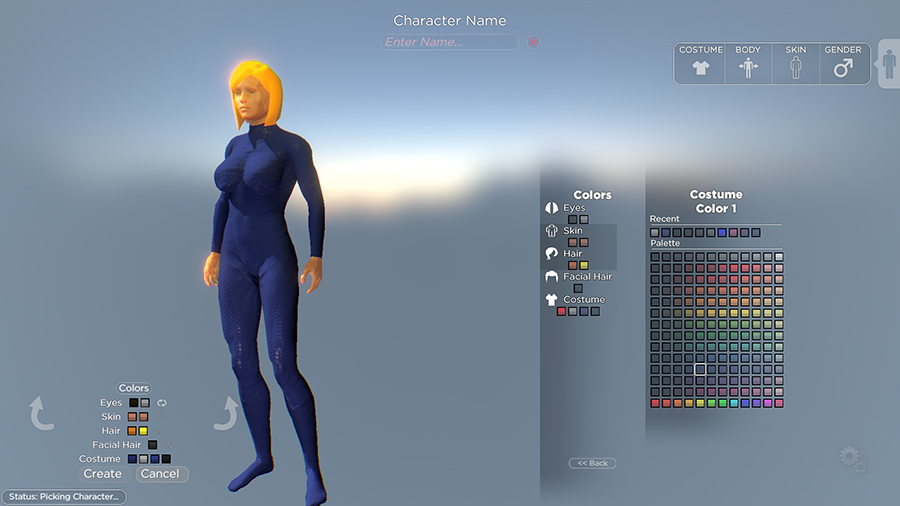 The final element of the character generation process being implemented is the Profile panel. This page takes defining your character to the next level. Instead of writing a simple biography or description of your character, you'll be able to target specific regions of your character and annotate unique details so that viewers can read a deeper, more focused account of your character. If your character has a cybernetic eye, simply select that eye inside the Profile panel and describe any details you'd like to share about it.
Transparency & Involvement
One of the biggest complaints from a lot of our supporters, both new and old is that they feel we've lost what originally made us so special to them; the transparency and openness we used to have between developers and our community. We've recently ran into a lot of brutal setbacks, like when over the course of two months, we lost our entire 3D art staff, and really weren't sure what was the best way to discuss it. Naturally when people hear that such a thing has happened, it just sounds bad and can even bring a sense of detriment from some people's perspectives. Being an undermanned development team is not good, losing an entire department on top of that is even worse. But, one thing that we've always done is press on and work around our problems. After talking more with the people at our studio, we came to the conclusion that we should just be more open about such things.
Your concerns matter. We've learned a lot over the last few years, and we're working to better ourselves as a studio and individuals. Going forward, you will see far more transparency from us in regard to the day-to-day developments of the game, the studio and the team.
We've also been listening to your opinions regarding our involvement here on the site and in the forums. It has been our desire to be more active, and many times we find ourselves having to choose between spending time developing the game or spending time in the forums. In most cases, we conclude that as players, you'd want us to focus on getting the game into your hands. The demands for us to be more active has been heard, and with development a bit more relaxed as we prepare for the Alpha launch, we are working harder to structure availability so that we can interact with everyone in the forums and social media more frequently.
The New Schedule
As part of the new venture to be more aggressive with involvement and community interaction, we'll shortly be shifting to the following schedule:
Monday - Community Developer Day: We'll post a topic and you'll tell us how you'd handle it if you were developing the game instead of us.
Tuesday - Lore Release Day: We'll share a sample of lore from our game's universe.
Wednesday - Heroes/Villains Face Off Day: We'll pit your heroes against our villains, or your villains against our heroes and see who the community feels would win. A special forum thread will be opened for character submissions and a detailed template will be provided.
Thursday - Top Screenshots/Videos Day: We'll compile our favorite screenshots and videos of gameplay from the latest Alpha build, and share them on our site and social media outlets.
Friday - Patch/Week in Review Day: We'll post an in-depth review of progress made throughout the week, and share any significant news that should accompany that progress. Once the Alpha has launched, Friday will be target patch days with the goal being to have updates available just in time for the weekend./li>
Saturday - Dev Talk Livestream Day: We'll be in-game interacting with players while following up on the fidelity of our patch release from Friday.
Sunday - Power Recharge Day: We'll most likely be relaxing on this day and preparing for Monday, but may be hanging around in-game observing.
More so now than ever, we're focused on stability, continuity, and consistency. This is the first steps towards establishing the social presence that we want to convey.
Steam & Business
The topic of the Steam release has lingered for quite a while unanswered. With Valve currently awaiting a review copy, our focus remains on delivering a worthy game. We believe that we have a strong and capable community and many features such as the career mode that will attract players from many other MMORPG classifications. Right now our goal is to deliver a content-rich experience with all the depth and interactive elements associated with a true roleplaying game. Until then, we'll continue to build, expand, polish and refine.
Regarding business, we're returning to the tables of interested publishing and investment parties and working towards better establishing our business. Very soon you'll see our network expand as four other games from four different teams launch their websites on the SHOGN network. Expansion will bring more exposure to Valiance from a wider range of MMORPG players.
Conclusion
There were a few more topics I was looking to touch on with this update, but I've reserved them for a follow-up blog post. As always, I want to say thank you to everyone that has donated to our cause, and to those who have supported us with their faith and votes of confidence. So thank you. Thanks for encouraging us, for believing in us. We're still at it, and there is much more to come! Until the next post...